There are endless electric fondue pot recipes you can prepare with your electric fondue pot to make your next dinner party or family get-together a roaring success.
Below are a few of my favorite recipes collected from some fantastic food websites and you will find the links to these websites under each recipe for step by step instructions to create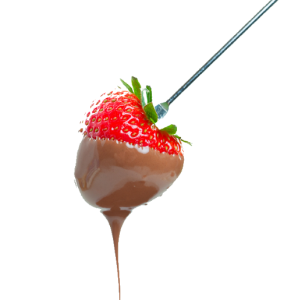 them.
I have cooked all these recipes in my electric fondue pot with great success and they were scrumptious!
Chocolate Fondue
Serves 8
Ingredients
12 ounces of milk or dark chocolate (chips or roughly chopped)
1 cup of heavy whipping cream
A pinch of salt
Dippers such as strawberries, banana pieces cut into 1-inch chunks, dried apricots, candied ginger, apple pieces
Method
Head over to Simply Recipes for the directions.
Swiss Cheese Fondue
Serves 6

Ingredients
2 cups shredded natural Swiss cheese
2 cups shredded Gruyère cheese
2 tablespoons Gold Medal™ all-purpose flour
1 clove garlic, cut in half
1 cup dry white wine
1 tablespoon lemon juice
3 tablespoons kirsch, dry sherry or brandy
Dunkers (French, sourdough or pumpernickel bread, cut into 1-inch cubes; cooked small red potatoes; broccoli or cauliflower flowerets; mushrooms; cherry tomatoes
Chopped fresh chives
Method
Head on over to Betty Crocker for directions.
Pesto Fondue
Serves 4
Ingredients
3 cups mozzarella cheese, shredded
1 cup Parmesan cheese, shredded
1½ cups dry white wine
2 tablespoons cornstarch
3 garlic cloves
½ cup fresh basil leaves (chopped)
¼ cup almonds, toasted (can substitute with pine nuts or walnuts too)
Ground pepper to taste
Method
Head to Fat Girl trapped in a Skinny Body for directions.
Chocolate Cheesecake Fondue
Serves 4
Ingredients
16 oz [2 packages] cream cheese
2.5 oz unsweetened baking chocolate, finely chopped
½ cup of sugar
2 tbsp of Kahlua (or another dessert liqueur) – optional
Method
Head on over to frugal foodie mama for directions.
What to Dip?
There are countless Dippers / Dunkers / Dip-ables (whatever word takes your fancy) you can use for your meals, here are some of my favorites:
Bread – baguettes, sourdough
Strawberries
Kiwi fruit
Banana
Apple
Orange segments
Raspberries
Blueberries
Pineapple
Mango
Cantaloupe
Marshmallows
Broccoli
Cherry Tomatoes
Meats – chicken, lamb, pork, cubed
Meatballs
Seafood – prawns, fish
What are the Best Oils?
Peanut Oil
Vegetable Oil
Canola Oil
Grapeseed Oil
And That's All There Is To It!
The next time you are looking for the perfect way to wow your family and friends with a delicious meal, these easy and super tasty recipes are the go-to. Best of all, the recipes don't take long to prepare!
Looking for more fantastic recipes check out The Melting Pot recipe book to inspire you at your next fondue soiree.
If you have any of your own favorite fondue recipes or foodie website links please share them in the comments section below, would love to read them!